Being the experienced mover that I am, I have picked up on an interesting pattern over the years: people hate moving! Astute, I know.
There are so many obvious reasons to hate moving such as informing everyone that you have a new mailing address and possibly a new landline; forgetting about a few companies that need to know your new address and then belatedly informing them; learning new traffic patterns and speed traps; paying for speeding tickets gained from said speed traps; finding a convenient traffic school for said ticket; oh, and finding your new favorite coffee shop…just to name a few.
While we have gathered some very helpful information on our Web site to help anyone moving best handle the emotional and practical difficulties of moving (whether you are moving yourself or hiring a mover), here I am going to specifically discuss some logistical difficulties that arise when one moves oneself. Consider yourself warned.
What Was That Thing Made Of?
Did you know that, by far, most wood furnishings today have some measure of particle board in their construction?  Did you know that particle-board furniture is not designed to be moved several times and that there is a direct relationship between the percentage of pressed board in the content and just how soon it will fall apart? Sometimes simply assembling that beautiful bookcase from Ikea and then moving it to another room is all it takes for it to fall apart, not to mention relocating it to another home!
Then there's the whole fitting it through the doorway issues. Many pieces, from refrigerators to sofas, simply weren't designed with moving in mind. Go figure.
Driving a Truck without Hitting Anything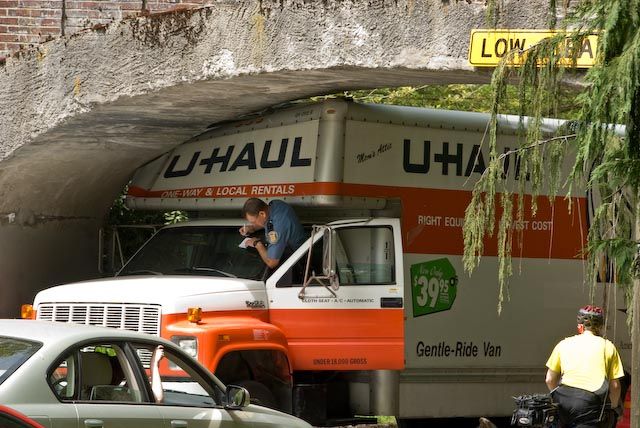 Boy, if I had a dime for every time I saw a U-Haul truck with a classic dent in the upper right hand corner caused by colliding with a street light, a tree branch, or a parking sign, I could buy my own fleet of moving trucks. Wait…never mind.
Does Breaking a Mirror Really Mean Seven Years of Bad Luck?
Knowing how to handle certain things, what items require going into a box for safe moving, and how certain furnishings must be padded and loaded to travel safely is truly a skill. The Internet is filled with plenty of great do-it-yourself tips, but when it comes to something really important, like say, surgery or all of my belongings arriving safely at my new home, I am going to leave it to the professionals.
Solutions!
Professional movers have tricks to increase the odds of relocating a particle board bookcase without damage, fitting refrigerators through (or sometimes over) openings that aren't big enough, and getting all your belongings safely from point A to point B without damaging anything–your furnishings, the truck, any passersby and/or innocent children or pets. Of course, the more reputable the mover, the more likely the chance of success in all of the situations mentioned above.
While your mover won't always be able to help you find your new favorite coffee shop, they can make arriving at your new digs (cribs for you younger-generation readers) infinitely less stressful.
-Billy Kornfeld, founder and owner of Camelot, has helped thousands of families transition across town, across the state, and across the nation over the company's 26 years of business.