If you are moving 100 miles or farther, Camelot Moving and Storage can meet all your moving needs. Unlike many other moving companies, Camelot is not part of a chain or an agent for another larger company. Rather, we are an independent moving company, which means we maintain complete control over your shipment until it is delivered to your new home or office.
Since it is best for your shipment to be handled as few times as possible, Camelot's moving specialists will load your items into one of our vans, and they will stay in the same van until we deliver them to your new home or office. Your furniture and belongings or equipment will not change vans or drivers while en route.
This unique approach also allows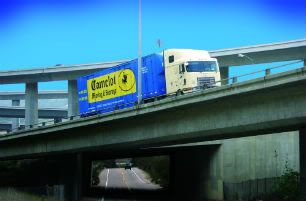 Camelot to maintain complete control over scheduling your long-distance move, and we in turn pass that control on to you. You choose your dates for loading and delivery, and as long as those dates are available, they are yours. You won't need to wait for other shipments to be delivered ahead of yours, which often happens when using van lines.
All of our long-distance shipments are hauled in air-ride-suspended trailers for maximum protection of your belongings. Each trailer is fully stocked with state-of-the-art moving equipment so your delivery will go smoothly.
Whether you are moving your home or your office anywhere in the continental United States, Camelot Moving and Storage is your moving company when it comes to long-distance moving.
1 800 499-3112
661 255-3112
CAL T PUC 150296 US DOT 0501984 MC 258193